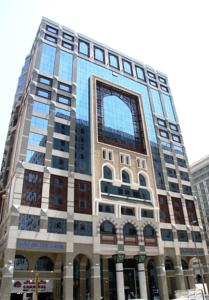 للحجز يرجى الاتصال
Booking hotels in Al Madinah Al Monawarah nearing Al Haram Al Nabawy so,
Only 100 ft from Al-Masjid al-Nabawi, this hotel features classic guest rooms with plush carpets, air conditioning and a flat-screen TV. The on-site restaurant offers views of the Holy Mosque.
The spacious rooms at the Dyar International include a minibar and telephone. Each room has a private bathroom with a hairdryer and amenities.
Guests can enjoy reading a newspaper in the lobby, which has a TV. It is also possible to go shopping, as the Bin Daoud Shopping Center is just a 1-minute walk away.
The 24-hour front desk staff can arrange room service, laundry requests and ironing. With free on-site hotel parking, the Prince Mohamed Bin Abdul Aziz Airport is a 15-minute drive away.
so, if you want to booking a good hotel five star that is hotel will be great for you .
book now